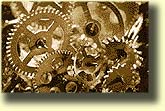 C.O.P.S. - Controlled Operations & Performance System
At Partners, our technical expertise is garnered through research, testing, and experience. We believe that technology is a valuable tool in our business, and consequently we have made substantial investments in areas that will directly benefit our customers, our partner suppliers, and our employees. To illustrate that point, we have developed a unique software program called Controlled Operations & Performance System (C.O.P.S.), and we've implemented it at our production facilities. Its purpose is to monitor and closely control the movement of our "high integrity" imaging and mailing applications. We use the system to monitor jobs from file transfer through data conversion, imaging, inserting, postage assessment, and delivery.
Our intent in developing this sophisticated tool is to provide our clients with on-line information about the status of their mission critical communications. In addition, it allows us to detect any variance in production from predetermined norms and standards. With this tool, we are able to identify a problem before it moves to a later stage of production. We can then remedy it, without sacrificing critical delivery deadlines. High integrity, indeed!
As part of our continued commitment to developing new technologies, Partners has made C.O.P.S. available to our customers who have selected us for high integrity imaging and mailing applications. To see it function, call Partners at (800) 545-0792 to receive a personal password that will allow you to review on-line all of C.O.P.S.'s capabilities at your convenience.
For additional insights into our capabilities, please review our commitment to imaging and mailing product development in our products section of this web site.