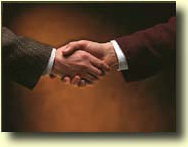 Print Management Partners - The Company
Print Management Partners is a company that believes in the value of true partnership. Our name says it all! The relationship we form with customers is the key to our success. We believe investment is the foundation of our continued accomplishment, whether it is with our customers, in our employees, or in technology. Since our beginning, we have reinvested our profits in our employees and our support systems. Business expects a lot from a relationship in today's world, and Partners is prepared to produce. Learn how our unique ownership structure, philosophy, technology, and commitment to quality position Print Management Partners as your partner of choice.
Partners' Vision
This is a statement of what we are and what we want to be:
We are a company that is 100% owned by our employees, and we honor our owners.
This workplace is a meritocracy. What our employees do is more important than who they know and how long they have been here.
We are a sales and service organization that is fast, creative, responsive, and flexible.
We compete and win on the basis of the unique knowledge, experience, and skills of each member of our Sales Team.
We serve our clients by providing creative business communications solutions using a portfolio of brands. We are comfortable using many forms of media to help our clients increase their revenue, reduce their internal costs, and speed their cash flow.
Our financial strength, driven by the personal investment of each employee/owner, ensures continued customer satisfaction, and our long term viability.
Our Mission Statement
To our customers: We are the easiest company to do business with.
To our employees: This is the best job I've ever had.
To our suppliers: We are a loyal and desirable customer.
To our investors: We provide a safe and reasonable return on their capital.